Broaching – Cutting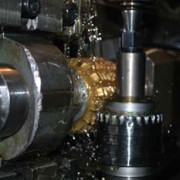 Cutting and broaching are two areas of know-how that DJ méca has specialised in since 1890. At that time, "Les Ateliers de la plaine du Forez" were experts in the production of chain sprockets. The parts produced in high volumes for these markets gradually gave way to components requiring much more technical skills.
An historical Know-How
Although they are no longer DJ méca's core business activity, we still have conventional broaching and cutting machines that we maintain in good working order. These machines, which were specifically designed for our original markets, allow us to preserve our know-how in these fields. We also have a network of subcontractors to complete our capacity range.
Part dimensions:
Cutting: 6 to 200 teeth
Broaching: up to Ø 65 mm
Maximum travel: 1000 mm
Maximum power: 60 kN
Production capacity:
Vertical broaching machines
Horizontal broaching machines
Cutting machines
Typical machines:
LIEBHERR
JTC SYSTEME