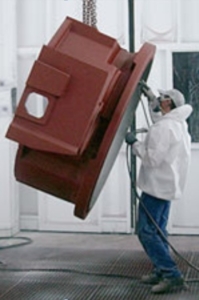 DJ Méca broadens its range of services by offering a liquid paint service (Water-soluble, polyurethane) allowing the delivery of painted and protected finished parts.
In addition, thanks to its many finishing and washing machines, we provide you with a quality service with deburred and washed parts.
Thanks to its 12 * 4 m painting booth and its overhead conveyor, DJ Méca offers a paint solution for all your parts up to 250kg / ml.
The size of the cabin  :
12000*4000 mm
adequate charge level :
Convoyeur aérien entrée sortie jusqu'à 250kg/ml
Finishing :
deflashing machine with drying
blasting machine
washing machine
type of machine :
GRINDINGMASTER
TROWAL
SPIRATION
SINA
DREHER